The Official
Dennis Gross Memorial
Sacramento
Peep Off!
Updated in 2007!!
2007
Peep Off X: The Nemesis
This 10th Peep Off could be the last. Next year, I leave for Round 2 of my round the world motorcycle trip. I would like to have left this year (April Fools Day is always good for me), but my bike is in Australia, and probably wouldn't have made it to England in time for me to make it to Sicily. Make sense? It does to me.
Will there be a Peep Off XI? It depends. There is a Star Trek Eleven coming out for Xmas of 2008.
Star Trek XI: (Christmas with the) Devil in the Dark
AKA "No Christmas I" with the soundtrack done by Van Halen.
So maybe, but I'm planning on being on another continent.This could very well be the last of the Peep Offs that I'm doing.
In 2006, the winner was Doug o' the Ozarks with an amazing 30! (Doug emailed me and said it wasn't the measly 26 I had posted before). It was super low! And he thought he wasn't even competing! That means that the Winner of Peep Off Ten might be super low. So show up and kick marshmallow ass!
Oh yeah, last year there was some kid bleeding from the side of his nose. I don't know who's kid that was, but I'll try to remember to have some tampons out front if it happens again. Then I'll post pictures and ruin his life as he'll grow up as The Tampon Kid.
Important part:
This years Peep Off, like usual, is the first Saturday after Easter: April 14. And as always, I say I'll start it at 2pm (which everyone knows means 3pm). Like usual, I'll try get the BBQ going at 2pm. It'll be at my place in lovely midtown Sacramento (basically 19th & Capitol). Email or call for directions: 916/237-7052.
Damn, I just realized that's The 2nd Saturday. That could be good or bad, but this neighborhood went way downhill with the midtown gentrification. You can't swing a dead cat by the tail without hitting some fancy-pants out of Granite Bay trying to find valet parking at Zocolos so he can drunkenly run us over on his way home.
Last year, Skipper was going to BBQ an armadillo. That was too hard for us to find. Hopefully, I'll find one this year since Skipper is hiding in Germany looking for the Peep Ark of the Covenant. Heckasac heard a rumor you can buy them ready to cook! Armadillos, that is. Not Marshmallow Arks. Shawn says he knows of a place that sells them, but it sounds like the same place Skipper and I repeatedly checked last year.
5% of armadillos carry leprosy. As Cecil Adams says, "Fewer than 5 percent of wild armadillos have it, though I grant you that 5 percent of 30 to 50 million is a lot of armadillos".
As usual, this often gets filmed, so if you don't want to risk being on film, wear a mask. You should wear a mask anyway since cameras were invented to steal your soul. The last Peep documentary (yes, there's been more than one), that filmed here is getting set for release. Check out The Power of the Peep.
And this year, there are Green Peeps for a drunken Irish Peep Off. Start building your diorama!

We tried to get the Official Just Born (tm) Marshmallow Peep Bus to come by in 2004, but Just Born said "Go to hell, you old bastards" and then they threatened to give me a Columbian necktie. The same thing they did to James in Knoxville, the marshmallowy jerks. Knoxville is the Sacramento of the South.
Peep Offs from Around the World! (updated in 2004)
2006 Results. I wrote them down. I don't know where I put the notes.
2005 Results. Hell if I know. I was in New Zealand pushing my motorcycle around looking for the bits of my piston. I should've used Peeps to replace the piston. That would've kept it running. Someone won -- I don't know who. "Poky Peep Fun" emailed me some ADULT pictures of Peeps pinned to certain ADULT things. Please, don't look.
2004 Results. I don't remember and the results are on a piece of paper somewhere in storage with all my stuff. The winner, Gillie, ate eleventeen brazillion peeps. A few less than Dennis Gross. That "won" her the right to sign her name to my wedding certificate.
2002 - Peep-Off VI - Peepzilla - Results
PEEP-OFF V - Peepageddon - April 28, 2001
(Canadian National Day of Mourning)
Peep 2K Peep-Off 2000!! (aka Peep 2K, not Tooth Decay) This was the one where riot cops lined the street to stop the Peep Fight. Okay, the Sac PD wasn't really in riot gear, but they blocked off the street and seemed a wee bit pissy about marshmallow.
3rd Annual Peep-Off (aka, Tonite We're Gonna Peep-Off Like It's 1999)
Salon.com writing about Peeps in general, and the Peep-Off in particular.
$180 Peep jewelry done by someone who's friend stalked me
Oh wait, she removed her Peep jewelry. Dang her.
All the damned Peep links in the world from about 20 years ago
Dave Ninja story about the 1999 Peep Off
Amy Paris story about the 1999 Peep Off
Jack Eidsness started this whole thing. Here's a copy of his original Peep Off page. A quote from Jack I swiped from another page, "The Peep is a monument to the industrial paradigm of 'More, faster, sugarier, marshmallowier,' " says Jack Eidsness, a University of Maryland computer science major. Now he's involved with the wonderful Mozilla web browser which you should download and use religiously.
Origin of the Sacramento Peep Off: I'm at work looking around at Peep sites 'cause Lurch had tried to shove a whole pack of 10 purple peeps in his mouth at once that day (with no success - he only made it to 7 and that's when he started foaming purple and gave up). I found Jack's site and saw that he hosted a Peep eating contest. I send email that says, "Hey Jack, What's involved in having a Peep eating contest?" Jack replies, "I just put you up on my site as the contact for the Peep Off in Sacramento." So I had one. Later Lurch and I bought Peep Off t-shirts from him. True story.
In Jack tradition, if anyone else in the country wants to know about Peep Offs, let me know and I'll put you on the Peep Offs around the country page.
These are shots of Bill puking shortly before the cops lined up across the street. The Sacramento Police Department setting up a perimeter around the house and lining up to stop people from eating Peeps is an odd image that will live with me forever. The story is in the Peep 2000 link. Too bad the pictures of the blockade didn't come out.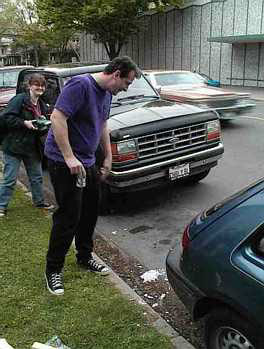 Bills wonderful Peep puke. He was puking, eating more Peeps, puking, eating more Peeps, puking and eating more Peeps.